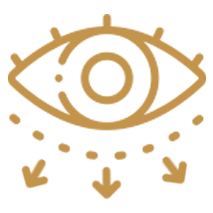 Have you been told your eyes look tired? They do not have to be. Let the AgnesRF tighten your eyes, smooth your wrinkles, and shrink your eyebags.
AgnesRF is a precision microneedling device that is currently being used all over the world for myriad aesthetic conditions including: lower eyelid rejuvenation, submental (double chin) reduction, jawline sculpting, deep wrinkles, acne, earlobe repair and more. AgnesRF is the only radiofrequency device utilizing a single pin or three pin needle to deliver targeted energy into the skin. Each of the micro-needles is partially insulated which minimizes unnecessary damage to surrounding tissue, reducing recovery time. At Natural Radiance, we have found nothing better to address the aging eyes or active acne.
What are the benefits of AgnesRF?
The AgnesRF treatment increases collagen production for firmer skin around the eyes, giving you a younger, refreshed look. Patients see an immediate tightening above and below the eye, improvement in under eye dark circles and eyebag reduction for a smoother, rested looking under eye area. 
AgnesRF also is effective for acne, cystic acne, blackheads, enlarged pores, scars. It has demonstrated reduction in breakouts with low recurrence. Results can be seen in a few weeks. No systemic side effects as compared to oral medications.
NATURAL RADIANCE AESTHETICS & WELLNESS
What can I expect during my Agnes RF treatment?
It's done in our office under local anesthesia. Once you are numb, it takes about 45 minutes and is painless. During the treatment, the appropriated needle is inserted in the skin or fat pad around the eye, and the Agnes RF delivers the precise number of pulses needed for that area.
AgnesRF bypasses the sensitive superficial layers of the skin and directly heats up the deep layer, which causes skin to tighten and unwanted fat to melt away.
Redness and swelling can last for 3-10 days. It can be covered by mineral makeup after day 4. Expect the eye area to start to improve about 4-weeks post treatment as new collagen formation begins and your body expels the treated fat cells. Skin may continue tightening up to 12 weeks after the initial procedure. While results can be seen after one treatment, more than one treatment might be needed for optimal results.
For acne, a numbing cream is applied. A tiny needle is inserted into the infected hair follicle, the home of the bacteria causing the acne. The radiofrequency kills the bacteria instantly. The treatment may be very short or longer based on how many blemishes there are. Within a day or two the redness from your acne will vanish. Once the inciting bacteria are gone, the face heals very quickly.
NATURAL RADIANCE AESTHETICS & WELLNESS
Discover the transformative power of AgnesRF for effective eye rejuvenation and acne treatment. Whether you're looking to smooth out wrinkles, tighten sagging skin, or find a solution for persistent acne, our state-of-the-art treatments are tailored to meet your unique needs. At Natural Radiance, we prioritize your skin's health and beauty, offering advanced procedures like microneedling, radiofrequency therapy, and more. Contact us today and follow us on social media to stay updated!
Get Free Consultation With Our Experts
To learn more about AgnesRF at Natural Radiance Aesthetics & Wellness and find out if AgnesRF are right for you, call the office or schedule an appointment online today.