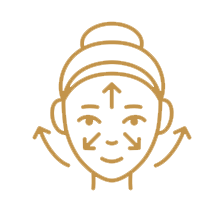 Do you struggle with loose, saggy skin? Not satisfied with other treatments? ThemiTight is the most effective treatment for loose, saggy skin because it goes deep where other treatments cannot.
Discover the Benefits of RF Skin Tightening and Rejuvenate Your Appearance
 If you struggle with sagging skin that makes you look older than you would prefer, help is available at Natural Radiance Aesthetics & Wellness in Scottsdale, Arizona. Triple board-certified, Scott Edwards, MD, and skilled skin professionals offer radiofrequency (RF) skin tightening procedures to make you look many years younger without any downtime.
What is RF skin tightening?
At Natural Radiance we use cutting-edge radio frequency technology to stimulate skin cell regeneration and tighten and lift loose skin, improving its overall appearance. The superior cosmetic experts have many years of experience performing this procedure with exceptional, long-lasting results.
How does RF skin tightening work?
Skin tightening treatments work to smooth your skin using radiofrequency energy to heat targeted tissues without damaging the surrounding skin. The technique stimulates collagen and elastin production over time, thereby tightening your skin. 
Treatments can be delivered in several ways.  At Natural Radiance, we prefer three specific methods depending on the goals of the client.  The first method is to deliver RF by microneedling techniques with special attachments that only heat the targeted tissues.  This is a more gradual change that may require several treatments over time.
Alternatively, for particularly challenging skin conditions or if the client wishes a faster result, RF may be delivered by ThermiTight which inserts a thin probe through a tiny pin-hole under local anesthesia to directly target the tissue in a more dramatic manner.  Only one probe treatment is typically required to achieve your goal.
A third RF method specifically designed for the area around the eyes,  tightens skin, smooths wrinkles, and shrinks eyebags giving you the effect similar to a more invasive eyelid surgery, but minimally invasive and minimal downtime.
NATURAL RADIANCE AESTHETICS & WELLNESS
Some of the benefits you can expect when choosing RF skin tightening at Natural Radiance include:
After that, there's no surgical procedures, pain, or downtime. Any possible side effects are minimal and temporary.
NATURAL RADIANCE AESTHETICS & WELLNESS
Embark on a transformative journey to a youthful and radiant you at Natural Radiance Aesthetics & Wellness. Located in the heart of Scottsdale, Arizona, our sanctuary seamlessly blends cutting-edge technology with personalized care. Here, we warmly welcome you into a tranquil oasis designed to revitalize and enhance your natural beauty. Contact us today and follow us on social media to stay updated! 
Get Free Consultation With
Dr. Scott
To learn more about Skin Tightening at Natural Radiance Aesthetics & Wellness and find out if this procedure is right for you, call the office or schedule an appointment online today.